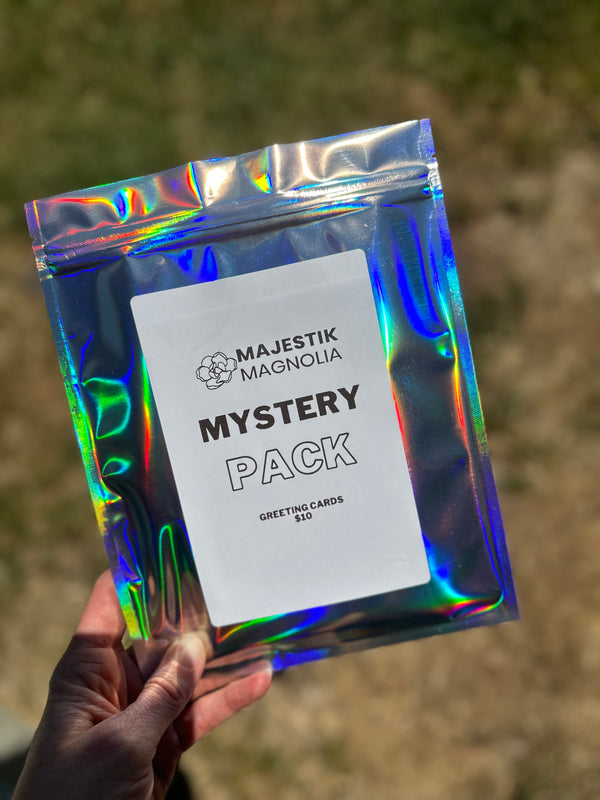 ✨ Mystery Pack • Greeting Cards✨
I've sorted thru the Majestik Magnolia studio to bring you... mystery card packs!  Each pack is a random assortment of 5 random occasion greeting cards (and envelopes) with discontinued designs or slight-less-than-perfect printing. 
I self-print each and every card here at the Majestik Magnolia studio and take quality-control very seriously!  I review all inventory and set aside greeting cards that are in working condition, but that might not be 100% up to par.
This is a great way for you to save $$ to stock up on cards while at the same time share in helping me reduce waste as a small business.
Each Mystery Greeting Card Pack Will Include:
Discontinued card sizes or designs in perfect condition


Current card designs that have oh-so-slight imperfections (Like a fold not perfectly centered, ink specks/dots, or slight dents)


Cards that are still perfectly usable and deserve to be loved, too. 🫶 Because y'all...sometimes the little specks of imperfection are barely noticeable!
Some extra notes:
Each card in the pack is different and comes with an envelope.  While you won't receive any repeat cards within a single mystery pack, it's possible you might receive a duplicate if you purchase more than 1 mystery pack.

Final sale, excluded from additional discounts.